Price

RM1,930.00

Product SKU
WK-240
Brand
CASIO
Size (L x W x H)
1 mm x 385 mm x 134 mm
Availability
In Stock
Quantity
Description
Highlight
76 keys with Touch Response, 48 Polyphony
600 Tones and 180 Rhythms
2.5W?2.5W
For Store Locator
Specification:
76 piano-look, touch-sensitive keys
600 AHL keyboard voices
48-note polyphony
Hall effect button (at the touch of a button, concert hall reverb can be applied to the sound of the keyboard)
Step-up learning system
180 rhythms
152 songs
10 digital effects
Registration memory
Sampling function
Scale tuning
Arpeggiator
Music Preset
Rhythm editor
Music challenge
Chord book function
Piano/organ setting button
USB plug & play/song expansion
Sequencer (recorder)
Audio input
Microphone input (mic-in)
Headphone connection
Speaker system
The WK-240 combines all the characteristics of a portable compact keyboard in a unique way. 76 dynamic-touch keys and 600 impressive AHL tones ensure an unforgettable musical experience for musicians with an eclectic taste in music. The in-built Hall effect button makes each performance unique: At the touch of a button, concert hall reverb can be applied to the sound of the keyboard, adding authenticity to your own performance. The three-level step-up learning system encourages creative development and is perfectly complemented by the entertainment functions, including 180 stirring rhythms and 152 songs.

76 Keys

Touch Response : 2 sensitivity levels

Maximum Polyphony 48

600 built-in tones

152 Tunes

180 built-in rhythms

Recorder

Lesson Function

Amp Output : 2.5W + 2.5W
Enhanced high-quality basic functions!
AHL*sound source
All built-in tones, including piano and acoustic instrument tones, now sound better than ever before! 48-tone maximum polyphony provides plenty of margin to minimize the chance of notes being dropped when tones are layered and when playing with Auto Accompaniment.
*Acoustic & Highly-compressed Large-waveform

76 piano-style keyboard
An easy-to-play keyboard with an appearance resembling that of an acoustic piano.
Touch Response
Touch Response let's you add delicate nuances to notes by varying how much pressure you apply to keyboard keys.

Virtual Hall
Playing the keyboard simulates the acoustic effect of a concert hall, and produces reverberations that transmit a feeling of being there.

Chord Book
You can use the Chord Book to look up chords you do not know how to play. You can hear what a chord sounds like and a simple operation even shows you inverted forms of the chord, making the Chord Book a valuable reference.
Entertainment features!

Sampling function
You can sample a sound from a microphone and then play the sound on the keyboard. You also can use sampled sounds to compose music. The sampling feature is a great way to create new sounds that are highly creative.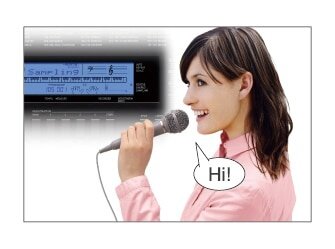 Sampling
Use a microphone connected to the keyboard's MIC IN / SAMPLING Jack to sample the sounds of things nearby.
Playing
Play notes on the keyboard using the sampled sound!
If you sample the "Ting!" sound of a triangle, for example, you can then play notes with the sound
on the keyboard. You even can add reverb, vibrato, and other effects to the sampled sound.
Incorporate a sampled sound into accompaniment patterns!
You can sample a favorite musical phrase or drum sound, and use the same to replace some Auto Accompaniment drum sets.
Reviews (0)
view all
back
What's in the box
1 x CASIO WK-240 Standard Keyboard 76 Keys
1 x Manual Guide